Download ScreenHunter Pro 7 for Windows 7, 8, 10 - Award-winning solution for capturing, printing, editing and recording all-in-one videos to save you time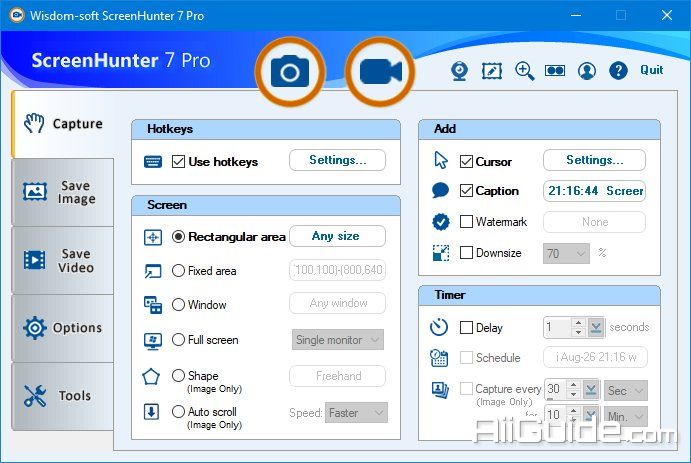 ScreenHunter Pro 7 is an award-winning solution to all-in-one image capture, print, edit and video recording. It's the total capture solution to save you time and boost productivity. Also with auto-scroll web pages, auto-capture, webcam and video screen capture. It captures what you see as an image even whilst recording. It has an easy-to-use interface. All the features are visible in 4 easy-to-use tabs, so everyone from beginners to professionals can use ScreenHunter 7. The process is simple, the options are easy to manage, and the results are flawless. Powerful and intelligent, ScreenHunter has proven to be an incomparable helper of your business.
The software supports full screen capture up to 6K for multiple monitors and records 4K videos for a single monitor. Supports frame rate up to 100 fps. Using DirectX lets ScreenHunter 7 produce professional quality videos. It is a perfect tool for recording movies and courses online.
ScreenHunter Pro 7 is the most advanced version with all the necessary tools included for your screen capture needs. It's the total capture solution to save you time and boost productivity. With this tool, you can capture screen to image or PDF files, immediately see the benefits of numerous time-saving features and deliver the highest quality screenshots. As well, it offers easy-to-use user interface and maximum flexibility for a more interactive capture experience.
Screen capture up to 8K resolution for multiple monitors combined with the ability for 4K screen videos and recording frames rate up to 100 fps.
Saving to MP4 with no size limit, it's perfect for recording online movies, courses and Skype calls.
Beginners become pros and pros become experts with our simple interface.
Captures & records minimized or covered windows, perfect for automatic and scheduled captures & recording.
Access your webcam anywhere anytime, so you can add into your recording the way you want.
Use a vector-based drawing layer to add arrows, boxes, text and symbols over your capture to add to the visuals.
System Requirements and Technical Details
Supported OS: Windows 7/8/10
Processor: Pentium IV or above
RAM: 1 GB RAM
Free Hard Disk Space: 300 MB or more