Download WinZip 27 for Windows XP, Vista, 7, 8, 10, 11 - The world's most popular Windows Zip utility for file compression, file sharing, file encryption, and data backup
WinZip is a software file compressor and archiver for Windows, macOS, iOS and Android. It is developed by WinZip Computing (formerly Nico Mak Computing), owned by Corel Corporation. The program can create archives in the Zip file format, decompress several other archive file formats, and it also has various tools for system integration.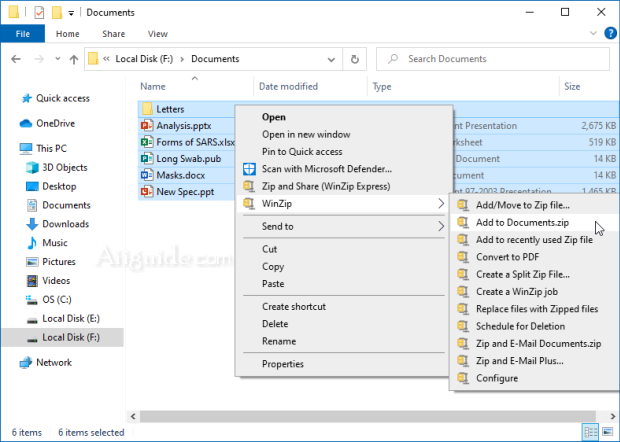 Despite the ability to decompress files in Windows XP, as well as software like WinRAR and its rapid pace of development (due to its focus entirely on compression rather than extra features), WinZip has been left out. out of the box, but with newer versions with improved user interface and the addition of features like Advanced file management, file converters, the ability to share and maintain their own users, and remains one of the most popular features in the field.
WinZip software features and specifications:
Advanced and attractive user interface
Supports most compression and archive formats
Has many features of compression software such as defragmenting large files
Protect and encrypt file operations
Has a relatively complete file management tool
Ability to convert Office suite software files to PDF
Preview compressed files and folders before deciding to extract them
Ability to automatically backup and send to the cloud environment
Upload files directly to the website or FTP
Go directly to the ZipShare site and upload files from within the software
Ability to schedule archiving and compression at any time.
Easily compress any file type with WinZip:
Compress files to save space and reduce transmission times
Create Zip, LHA, and new Zipx files – the smallest Zip files ever
Let WinZip select the "best" compression method based on file type to maximize efficiency
Compress JPEG image files by 20 to 25% with no loss of photo quality or data integrity
Open and extract from Zip, Zipx, RAR, 7Z, LHA BZ2, CAB, IMG, ISO, and other archive files
Experience better performance on most files with LZMA compression
View international characters in filenames through Unicode support
Create and read Zip files larger than 4GB.
Backup and Automate:
Prevent data loss with automated data backup facility
Burn back-ups to CD or DVD and automatically split them over multiple discs, if necessary
Upload your back-ups to an off-site server using WinZip's internal FTP client
Create custom jobs to automate routine zip tasks
Schedule jobs to run automatically and unattended
Utilize predefined WinZip jobs
Email, FTP upload, or burn Zip files to disc using Job Wizard
Email log files upon WinZip job completion
Utilize WinZip's command line interface for scripting (free add-on).
System Requirements:
Supported OS: Windows XP, Vista, Windows 7/8/10/11
Processor: Pentium IV or above
RAM: 1 GB RAM (2 GB recommended)
Free Hard Disk Space: 200 MB or more