Download Wise Care 365 Pro 6 for Windows 7, 8, 10, 11 - Take care and maintain your system, provide tools to fix registry errors, disk drives, and system utilities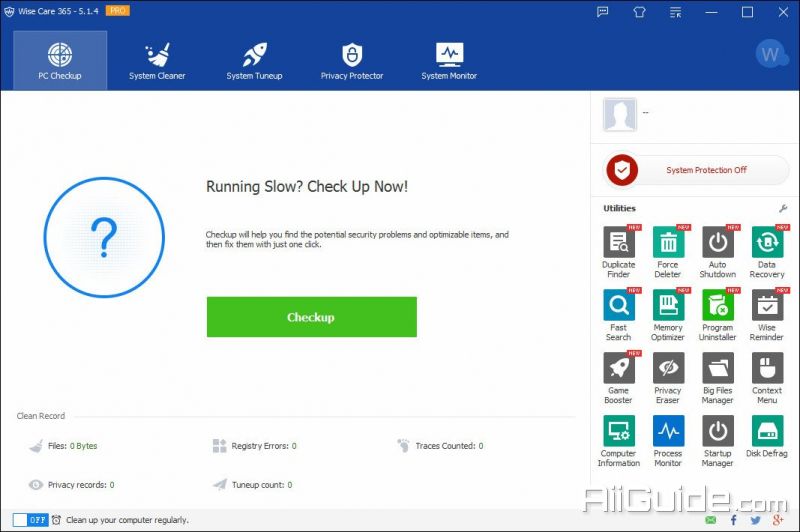 Wise Care 365 Pro is a useful utility in the care and maintenance of your system, providing tools to fix registry errors, drives, system utilities to improve the performance of your computer. This application is also capable of defragmenting the hard drive, recovering lost files and securing the privacy of users.
Wise Care 365 Pro will keep your operating system clean, safe and running with optimum performance. With the program, users can fix important Registry errors and drive care, defragment and optimize the Windows Registry for the hard drive. System utilities will allow you to clean junk data to reclaim free space on the drive, and enhance file storage.
Wise Care 365 Pro protects personal personal information for users with the ability to delete all session history on the system, prevent information leakage and theft. For data that is deleted, attacked by virus or lost by any reason, this application will also restore you safely. On the other hand, you can use the software's file hiding function to avoid unauthorized access from others.
Wise Care 365 Pro helps optimize RAM to focus resources while gaming and running heavy programs. Compared with many tools with the same functions as Advanced SystemCare PRO or CCleaner, this application has faster scanning speed and more specialized, has been highly appreciated by many leading technology magazines in the world.
Protect Your System in Real Time
Take prompt action once some applications attempt to make modification without your permission. This protector will identify and stop any processes that try to secretly change Windows registry.
Prevent programs from changing your Internet Explorer homepage
Prevent any unwanted new application from adding into the windows startup
Prevent changes to the default browser
A Comprehensive PC Cleaner
Wise Care 365 is definitely the preferred option for billions of Windows users who want to keep their Windows PC at peak performance. It removes invalid Windows registry entries and cleans useless files, download history, browsing history, invalid shortcuts, traces, cache, cookies, passwords, Windows components, and files with specific extensions - allowing Windows system to run faster and freeing up more valuable hard disk space in seconds. It is also packed with customizable cleaning options for advanced users.
World is Fastest System Optimization Tool
Wise Care 365 adopts world's top technology. It optimizes PC's performance, defrags disks and the Windows registry, and manages the startup process as well as services.
Over time, your computer's hard disk drive and registry will become cluttered. Wise Care 365 can defrag the drive and registry to make them organized, thus making your computer run faster and more stable. You are going to be amazed by its blazing defrag speed.
Many programs run silently in the background when you start up your computer. Wise Care 365 helps you disable unneeded programs that consume your precious system resources and improves PC startup speed.
Your Ultimate Computer Privacy Protector
Wise Care 365 protects your computer privacy from prying eyes.
Privacy Eraser erases all traces of any computer operation like browsing history and accessed files, so any computer operation you do stays confidential.
Disk Eraser prevents deleted data from being retrieved by third parties.
Disk Shredder can delete files thoroughly so that they can never be recovered.
Key features of Wise Care 365 Pro:
Erase, fix, defrag, and optimize the Windows Registry
Clean up and defragment your hard drive
Clear the session history on the computer
Hide data on the system
Optimized RAM for priority when playing games and running heavy programs
Optimizing performance for the system.
System Requirements:
Supported OS: Windows 7/8/10
Processor: Pentium IV or above
RAM: 1 GB RAM (2 GB recommended)
Free Hard Disk Space: 200 MB or more.