Download Iperius Backup Free 7 for Windows 7, 8, 10, 11 - Drive Image, backup to NAS, Cloud, FTP, Dropbox, OneDrive, Google Drive, S3 VMware ESXi, vCenter, ESXi Free, Hyper-V, Exchange, MySQL, SQL Server
Iperius Backup Free is a lightweight feature-rich backup and sync utility that provides flexible use for all your backup needs. Iperius Backup is a powerful backup software for Servers and PCs. Trusted by thousands of companies in more than 170 countries.The interface gives you the feeling of user-friendliness and the program core keeps the appeal and the power given by the pro-level features. Iperius backup represents the perfect balance between value and cost.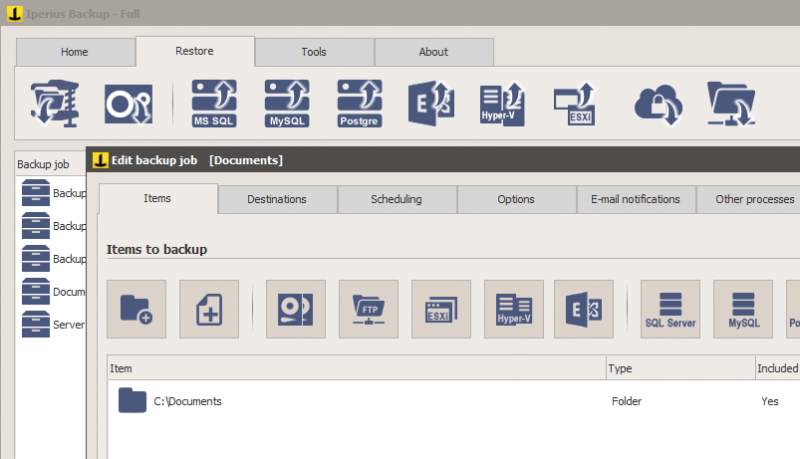 Iperius Backup Free - Free backup software, Cloud, ESXi, FTP, SQL
Check out all the pro features: drive Image (proprietary engine), database backups (SQL Server and MySQL), ESXi (even free) and Hyper-V virtual machines. Cloud Backup (Google Drive, Amazon S3, Azure Storage, OneDrive, OneDrive For Business or Dropbox, with zip compression and AES 256 bit encryption.), S3, Google Drive, FTP, LTO, NAS.
Features of Iperius Backup:
Full system backup and disaster recovery for workstations and servers.
Incremental Hyper-V (RCT) and VMware (CBT) backup. For ESXi, vCenter and ESXi Free.
A unique and powerful solution to make offsite backups to Amazon S3, Google Drive, Dropbox, Azure Storage, OneDrive, FTP or SFTP servers, Iperius Storage, Wasabi, Aruba Cloud, Backblaze and any S3 compatible storage.
A complete and easy-to-use database backup software for SQL Server, SQL Express, MySQL, MariaDB, PostgreSQL, Oracle.
Powerful backup for Exchange On-Premises and Exchange Online (Office 365).
Monitor and manage backups and systems using Iperius Console, a centralized dashboard where to see all the computers protected by Iperius Backup.